Zeitgeist Seer Program Update
The Zeitgeist Seer Program is getting another revamp!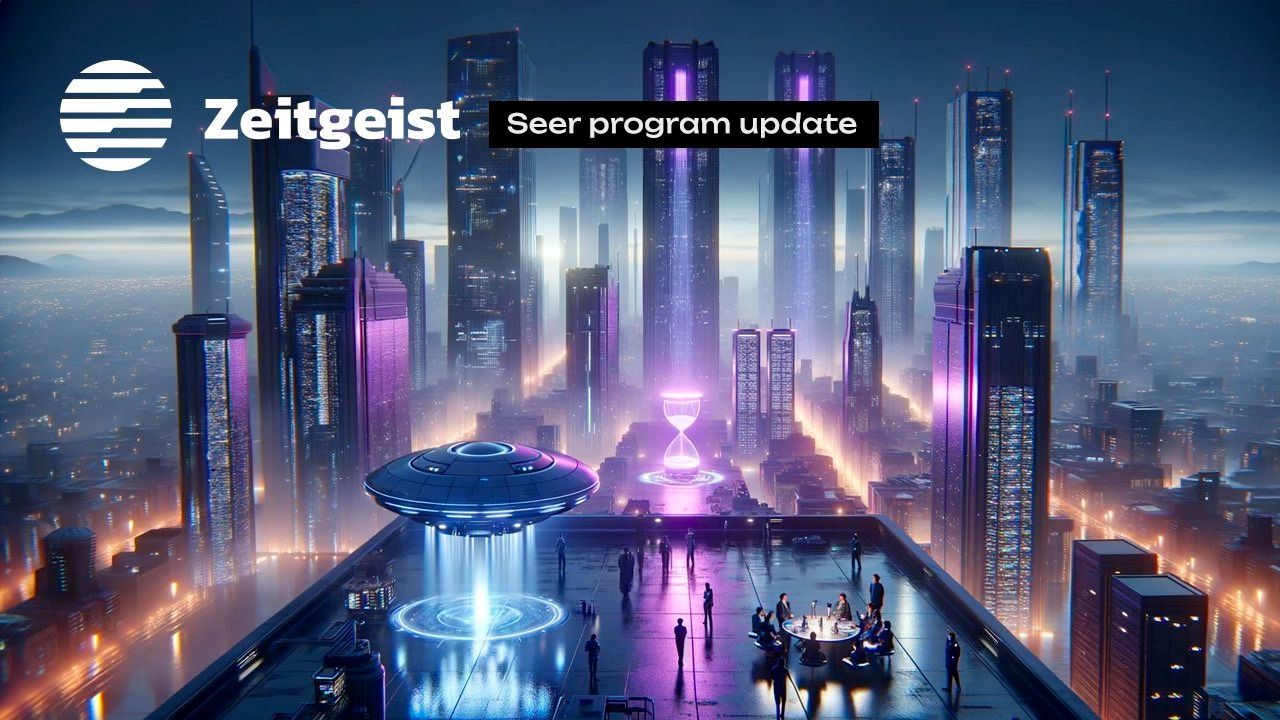 Every journey has its milestones, and at Zeitgeist, we're excited to embark on a new chapter with our Seer Program.
As we navigate the ever-evolving landscape of prediction markets and futarchy, our commitment to innovation and community engagement remains unwavered. Today, we're here to share the latest strides we've taken on this journey.
You might recall our major Seer Program Reboot in May. Yet, the winds of change have blown since then!
Change is the only constant. We recently faced a significant shift with the closure of WagMedia's Discord platform, which had been our trusted localization solution for a considerable time. We want to take a moment to express our profound gratitude to WagMedia and the team behind it. Their platform was not just a tool, but a community and a cornerstone of our operations.
In the fast-paced world of technology, many platforms make their mark and fade away. In recent months, Zealy.io has stood out. It's not just another tool or service. Instead, it's a powerful catalyst for community growth and development. Going forward, Zealy.io will be our bridge to deeper connections, meaningful collaborations, and a brighter future for our community.
Here's a glimpse of what awaits:
Off-chain quests. Our quest for improvement is relentless, and we've chosen Zealy.io for hosting off-chain quests. Here community members who are interested in Zeitgeist, and want to learn, create, and connect within the ecosystem will have the opportunity to do so.
Medium + Zealy.io for translations. Join our Medium family. Share your insights, translations, and stories. Our translation process has transitioned from WagMedia to Zealy.io, which will streamline the experience for translators.
Tiers. Your progress and loyalty mean a lot to us. To ensure a more efficient and rewarding experience, we've now integrated our system with Tiers. This allows us to offer customized content, exclusive rewards, and specialized access depending on your engagement level.
Quizzes. Learning should be fun and interactive! To add an element of excitement and challenge to our content, we've introduced quizzes. Now, you can test your knowledge, challenge yourself, and even compete with your peers.
Polls. We value your opinion. With our new polling feature, you can voice your thoughts, participate in quick surveys, and be a part of the decision-making process.
Events. Keep an eye out for our events calendar. Whether it's Discord events, workshops, or AMAs, we want to ensure you're always in the loop. With our new events feature, you can stay updated on upcoming activities, register in advance, and receive some Zealy "XP'!
Localization: Bridging worlds together. Language should never be a barrier. Our intensified localization quests ensure that Zeitgeist's vision is accessible to all, no matter where they are. Find localized quests and make the best out of them.
Now, when it comes to AirLyft, we don't see it as another platform; it is our trusted partner for on-chain quests and trading campaigns. With its seamless integration and robust features, AirLyft promises to elevate our blockchain endeavors to greater heights.
Get introduced to trading on the Zeitgeist app: Introducing Trading on Zeitgeist App with AirLyft: For those eager to embark on their prediction market journey, AirLyft offers a seamless introduction to the Zeitgeist app. It's your gateway to the future of prediction markets.
Incentivized Trading Campaigns: Stay tuned for regular trading campaigns! These are specially curated to motivate traders to engage in select markets, ensuring a dynamic and rewarding trading experience.
Community events: At Zeitgeist, community is at the heart of everything we do. We're thrilled to announce our collaboration with Web3 communities. And guess what? AirLyft will be the exclusive host for these community-centric trading campaigns.
Earn Your Fuel: Dive deeper into the AirLyft experience with 'Fuel'. This unique system, integrated within AirLyft, rewards our active users. By participating, you can unlock additional rewards and benefits through the Zeitgeist Portal.
Join the Zeitgeist Movement
The horizon is vast, and our journey has just begun. We invite you to be a part of this evolution. Engage with our new features, take on challenges, and let's shape the future of prediction markets and futarchy together.
Ready to dive in? Explore the new quests, share your insights, and be a part of our vibrant community.
To check out these new features and start your interactive journey, visit our quest board on Zealy.io. and AirLyft.
For newcomers
To learn more about the Seer Program and how to get started, we invite you to check out our resources:
Join us today and help shape the future of Prediction Markets!
Together, we grow and evolve!