Zeitgeist Newsletter: 008
Here are all the updates of what's been happening at Zeitgeist in the last couple of weeks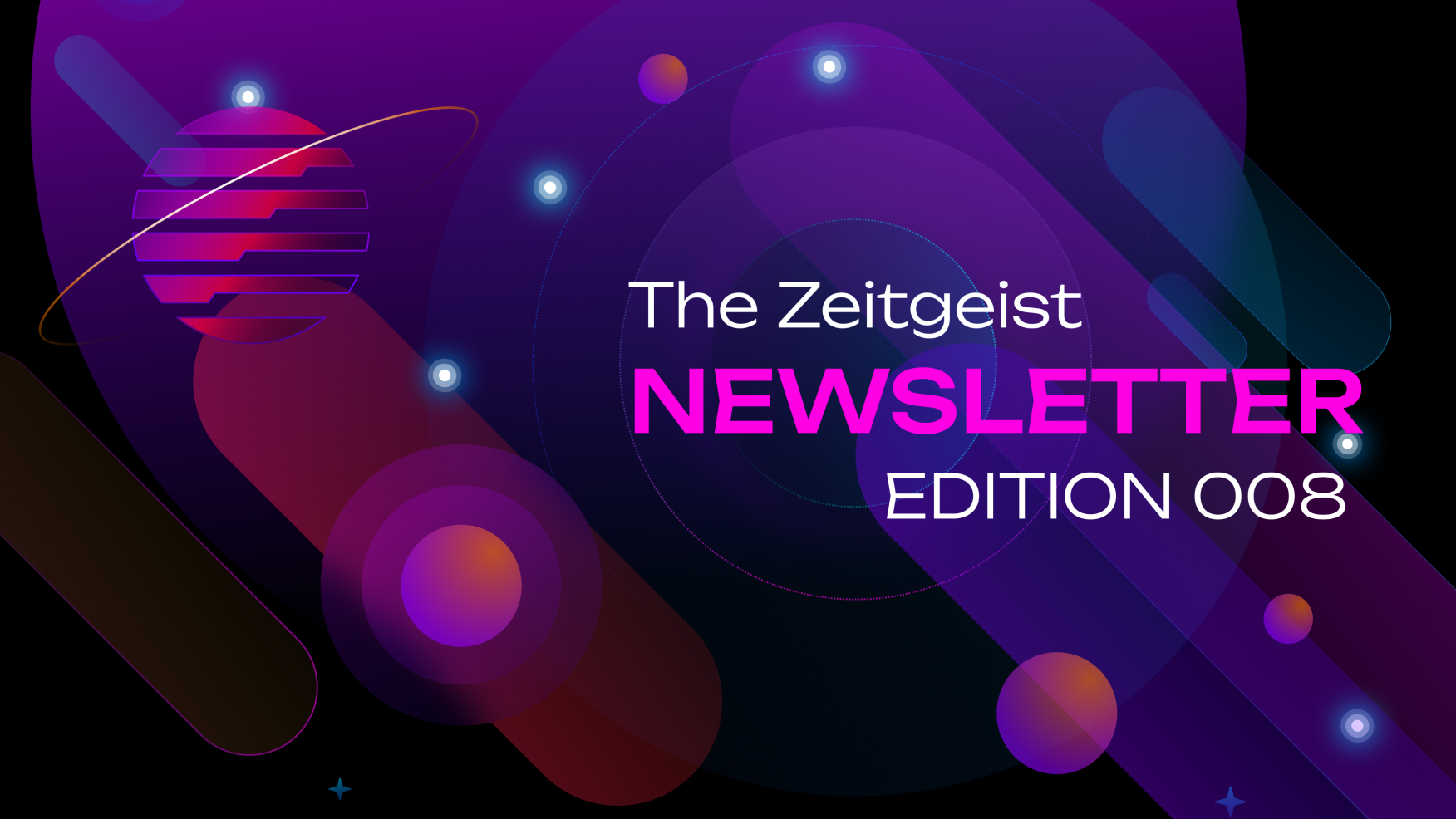 It's been a while since our last update, and so much has happened, as usual.
Polkadot Decoded has come and gone (with predictions about it), Paris Dot Comm has also passed us by, and we've had two upgrades to our application.
Let's run through the primary highlights, starting with the Zeitgeist Top Ten Chart...

1. The Zeitgeist Top Ten
This is the first Top Ten Chart to feature DOT-based markets, and you can see how wildly popular they are! The Top Five markets are all DOT markets, with the indicated ZTG volume converted from their respective DOT volumes at relevant prices.
The Polkadot Decoded in-person attendance market broke all kinds of records, mostly because so many attendees at the conference were participating in the market! 😅
Sport continues to be a big driver of market participation at Zeitgeist, but so does Polkadot and crypto news. One interesting market on the chart is one created by the Web3 Foundation's Bill Laboon. His market about the LK-99 as a Room-Temperature Superconductor has performed immensely well.
Here is the full Top Ten:
2. Zeitgeist In Copenhagen 🇩🇰
Polkadot's annual conference, "Polkadot Decoded", was held in the capital city of Denmark; Copenhagen, and was loved by all who attended (despite the lack of croissants).
Zeitgeist had a number of our team attend, where we had a booth showcasing our application and our vision to become the world's best decentralized prediction market app. We also had one of the team give a talk at the event, with our Blockchain Lead Harald Heckmann giving a run-through of how we migrated from being a Kusama parachain to a Polkadot parachain.
3. Zeitgeist In Paris 🇫🇷
Not long after Copenhagen, it was a hop down South to Paris where a bunch of Polkadot enthusiasts put on their second "Paris Dot Comm", an event held during the week of ETHCC. The conference had numerous big players from the ecosystem attend and speak, such as the CEO of the Web3 Foundation, Nova Wallet, Talisman, Moonbeam, Parity, HydraDX, Bifrost, and many many more.
Zeitgeist were well represented here, too, and were on stage for a number of sessions, with James MCing the Polkadot Stage on the top floor of the beautiful conference venue.
WATCH Hutch host a panel about growing crypto communities
WATCH James host a panel with Crypto VCs on the main stage
4. Zeitgeist APP Updates
We've made a number of updates to our app since the last newsletter went out, with two iterations being released in quick succession: v0.3.1 and v0.3.11
The primary highlights of these updates to the app include:
Implementation of foreign asset transaction fees
Adding of prediction market and swaps proxies
Integrating --relay-chain-rpc-url flag
Core support for any foreign token
Runtime calls for smart contracts (Testnet only for now)
Upgrade to polkadot-v0.9.37
See the GitHub release for v0.3.11 here
See the GitHub release for v0.3.1 here



5. Latest "Hold On What's Goin' On" Twitter Space
We were delighted to host Esther Jade, new Polkadot influencer from London, on our latest "HOWGO" Twitter Space. In the most recent edition, we concluded our "Drop It Like It's DOT" trading competition, where all the winners were announced, and also tapped into how Esther came to find Polkadot, and what it is about the ecosystem that she enjoys most.
6. Zeitgeist Participates In Polkadot Relay Incubators
We have partnered with AngelHack and a number of other Polkadot Parachain teams for the "Relay Incubators Program". Selected participants will receive dedicated mentorship, gain access to a wide range of Zeitgeist & Polkadot features, tools and resources, collaborate and connect with other devs and ecosystem experts, and attend an IRL Investor Engagement Program in Singapore (T&A grant included!)
If you're a dev and want to find out more about this exciting program, CLICK HERE



That's All Folks!
You're now all caught up with what's happening in the Zeitgeist world. It's a lot, as we continue to expand our work and grow as an exciting Web3 application.
Make sure to get predicting on our app, and stay in touch on X[Twitter] for the most recent news and announcements
Thanks for your continued support, and…
May your future be bright.
The Zeitgeist Team