Zeitgeist Newsletter: 007
Here is all the latest news from the Zeitgeist ecosystem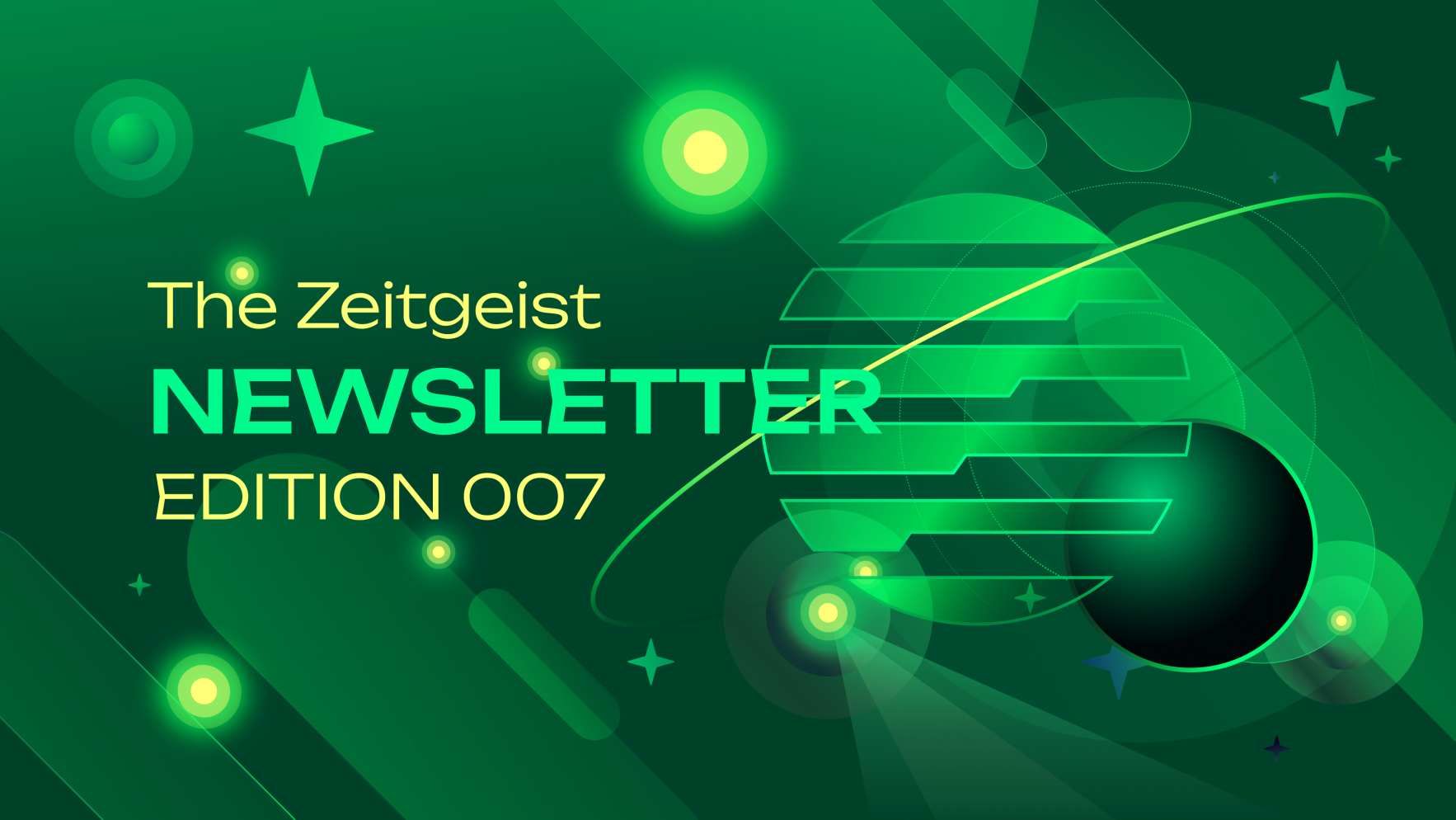 Greetings Zeitgeist Supporters,
2023 continues to be an incredibly exciting year for us, as we build toward our goal of becoming the best prediction market application available.
In our ongoing endeavor to increase accessibility for users, we have the amazing news of introducing our first DOT market this week! More on that to come. For now, let's start with our regular… the ZTG Top Ten…

1. The Zeitgeist Top Ten
Our latest Top Ten Chart by volume sees a political market topping the list for the first time, while our brand new DOT market (at only 48 hours old) breaks in at no. 3!
Here is the full Top Ten: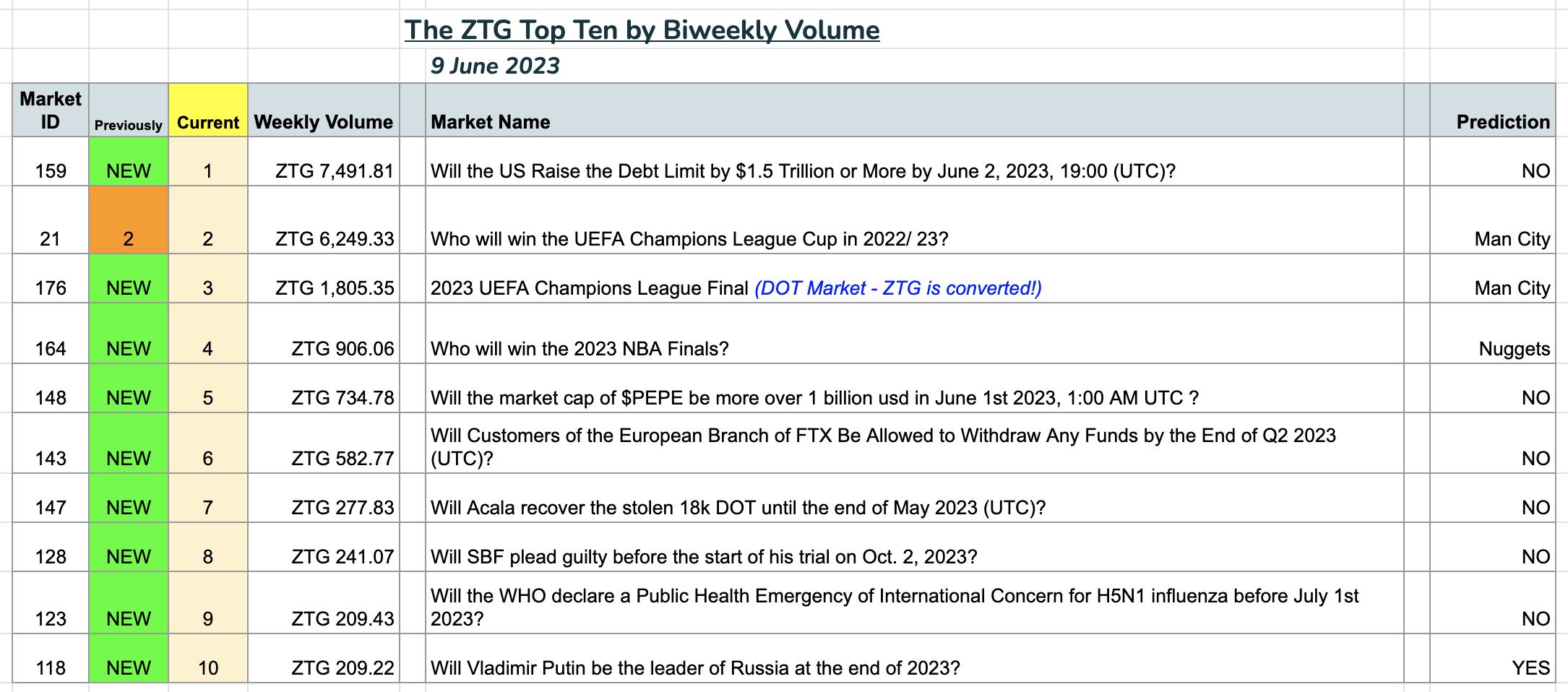 2. The First Ever DOT Market!
We are delighted to introduce our first ever market denominated in DOT (the native utility token of the Polkadot network). Users can now teleport their DOT from the Polkadot chain to the Zeitgeist chain using our built-in interface under the "balances" tab.
Our first market tradable in DOT is for the (recent) UEFA Champions League final, picking the winner outright between Manchester City and Inter Milan (our original Champions League Market was choosing the winner right at the start of the competition, picking from a dozen teams). Needless to say, Manchester City (were)  overwhelming favorites in both markets.
This market is part of our vision to create an accessible application that everyone can (and wants) to use. We'll be rolling out more DOT markets in coming weeks, with USDT-based markets on the cards next!
WATCH how to teleport your DOT on Zeitgeist
Check out our first DOT market here


3. Smart Contract Functionality
The ability to write smart contracts using the Zeitgeist platform will be a powerful tool for developers and builders experimenting with Prediction Markets. We are getting ever closer to having this functionality available on Zeitgeist's SDK, and are in the process of finalizing its implementation.
There has been some discussion on our governance boards surrounding this, specifically whether we implement the Ink-based module or the EVM module. If you want to see the discussion and the various options presented by our Blockchain Lead, Harald Heckmann, check out his post below:
Read the Smart Contracts Discussion


4. Opening HRMP Channels On Statemint = USDT
There is a new referendum on Polkadot asking for HRMP channels to be opened to Statemint, which would open the door for USDT transactions. There are four Polkadot parachains requesting this channel to be open, one of which is Zeitgeist! Make sure to vote if you hold DOT.
5. NBA Finals
We launched a new market for the NBA Finals, currently being played between the Denver Nuggets and the Miami Heat. Played over a possible seven games (first to four), the Denver Nuggets are forecast as strong favorites to win the NBA Championship this year, and that prediction is already proving true, as they lead the series 3-1.
Make your prediction on the NBA Championship here


6. New decentralized trollbox launched
We've added another great feature to the Zeitgeist app: A decentralized chat box! Commonly referred to as a "troll box" in Web3 (and in some Web2 circles), a chat box is a small window where users can chat with each other about various happenings on a specific app.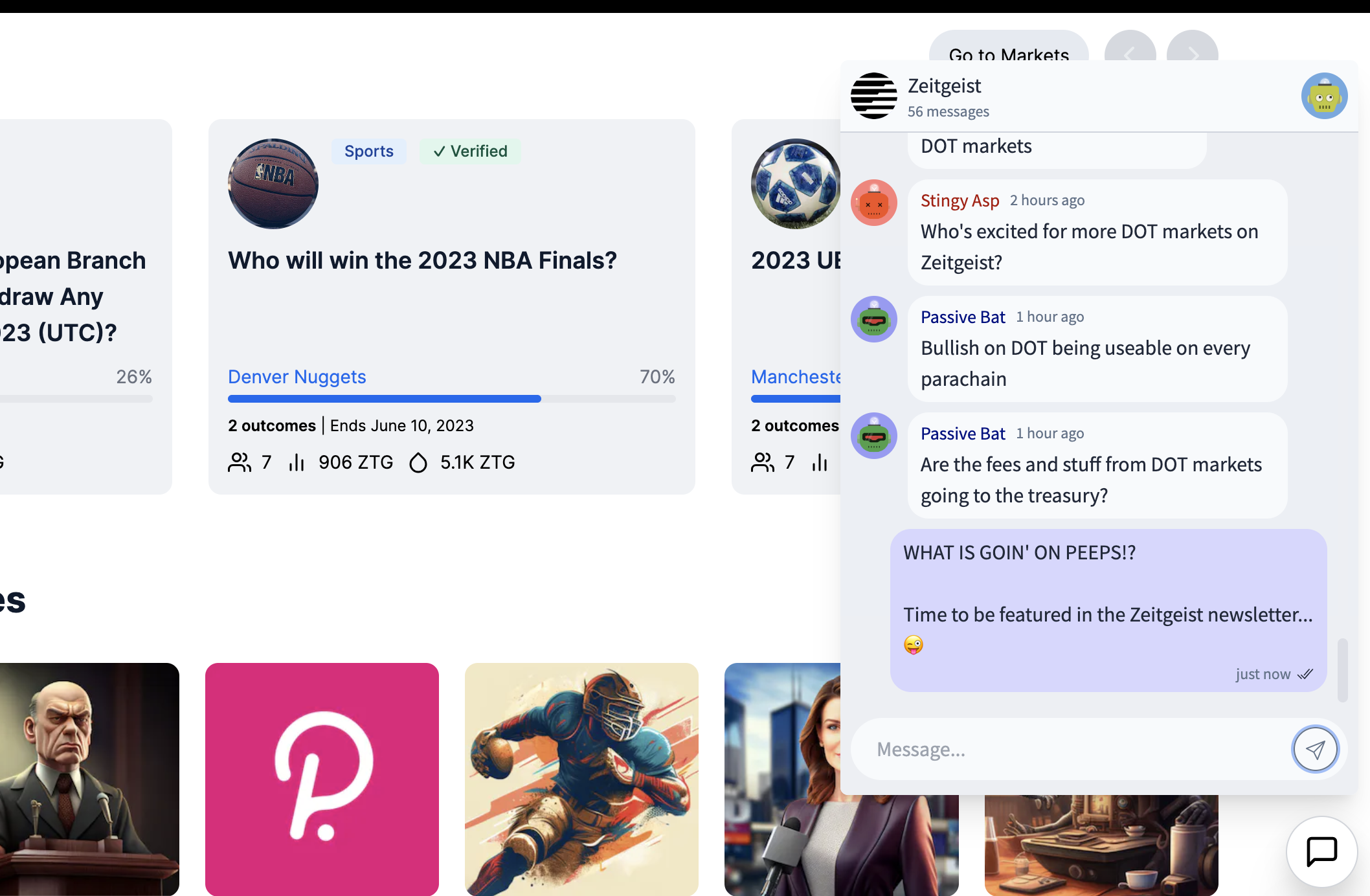 Thanks to the tech of Subsocial and their new Grill Chat application, we were one of the first apps to launch such a feature, and people are loving it. Users simply need to have their Zeitgeist wallet connected, and they can chat with other users on the app at a given time.
Hit the chat button in the bottom right corner and get chatting!
Read the full story about the tech on Cointelegraph


That's all folks!
And that's where we'll leave it for this week. We hope you've enjoyed this update, and appreciate all the team are doing to produce the best Prediction Market application in Web3. With USDT and more DOT markets coming, this is truly only the beginning.
Thanks for all your support, and…
May your future be bright.
The Zeitgeist Team