Zeitgeist Newsletter 005
Here's everything that's been going on at Zeitgeist over the last few weeks.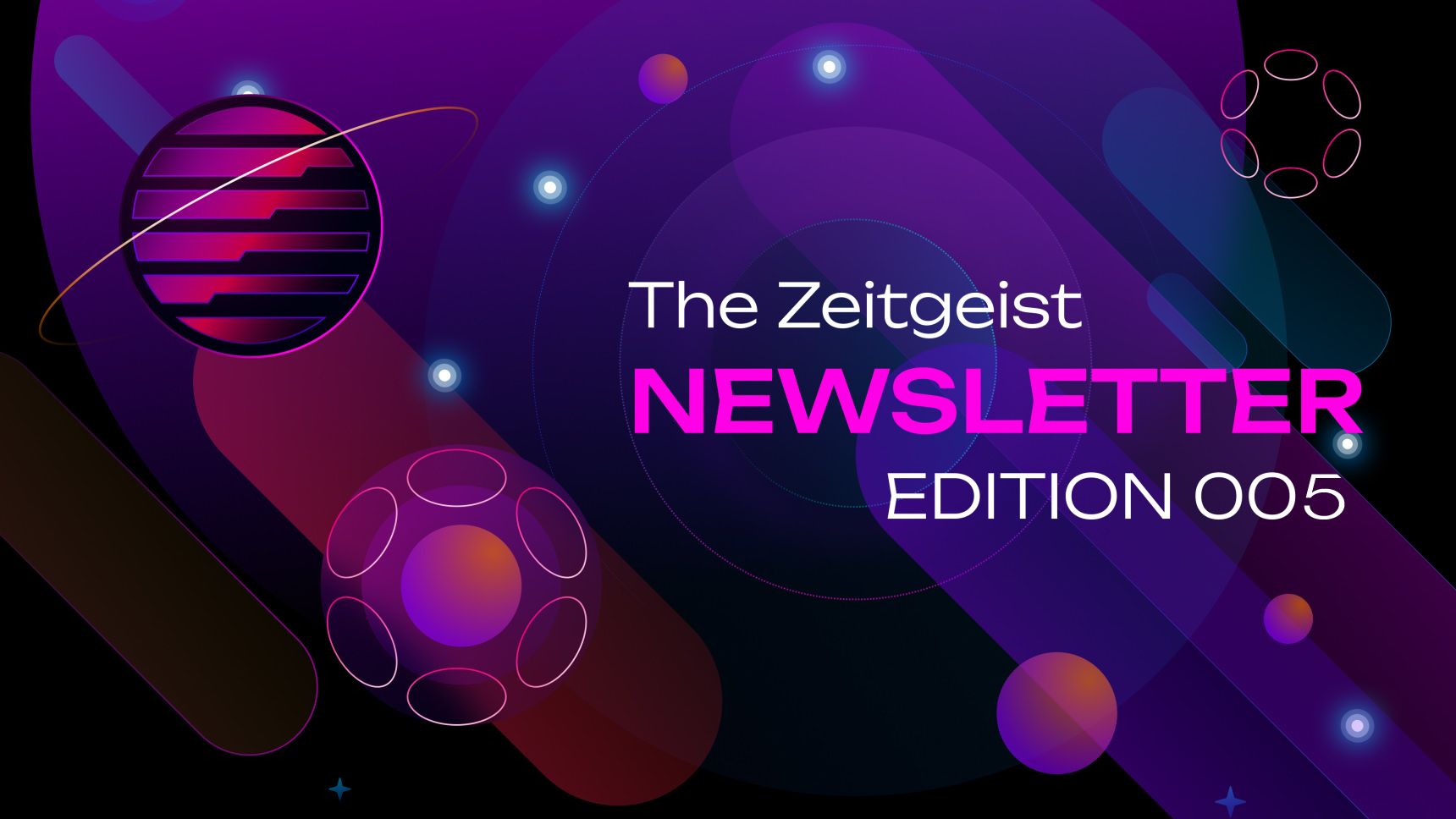 Hello Zeitgeist supporter!
Welcome to the fifth edition of the Zeitgeist newsletter. A whole bunch has happened as we continue to expand our reach and grow the ZTG ecosystem, none more important than our migration to Polkadot. We'll get into how that went soon... For now, let's begin with our regular starter: The Zeitgeist Top Ten…
1. The Zeitgeist Top Ten
The latest ZTG Top Ten Chart shows that the ecosystem is becoming a little more comfortable with making informed predictions, as we are now seeing numerous forecasts being made about the Polkadot environment and tech/Web3 topics in general, with only one sport market making the Top Ten this week!
Here is the current Top Five by ZTG volume (click here for the full Top Ten)…
Will Singular EVM launch in March? (6,217 ZTG)
Prediction: NO
What will the price of ASTR be at the end of Q1 2023? (2,244 ZTG)
Current prediction: 11c
Will SpaceX's Starship reach outer space before the end of Q1? (1,645 ZTG)
Current prediction: NO
Who will win the UEFA Champions League in 2022/ 23? (1,476 ZTG)
Current prediction: Manchester City
Will ZTG be available for trading on a DEX by the end of May? (852 ZTG)
Current prediction: YES
Click here to view the full Top Ten

2. Zeitgeist's Polkadot Migration A Success
As announced in our previous newsletter, we planned a migration from being secured as a Kusama parachain to being secured by Polkadot. Due to current market conditions, Polkadot parachain slots have been markedly cost-effective. Thus, in November last year, we made a self-funded bid for one and were delighted to have won.
After exhaustive groundwork, our team went ahead with the migration only two weeks ago, on March 15th. Thanks to the sensational work of our Blockchain Team led by Harald Heckmann, the migration went smoothly and our app was back online in under 24 hours - now fully secured by the Polkadot relay chain.
In addition to spearheading the migration, Harald also kept tabs of the process and has produced a well of resources by way of documentation, aimed to help future parachains looking to migrate from Kusama to Polkadot.
Access Harald's documents here
Check out our congratulatory message from Polkadot themselves
Read more details about our migration here
3. Zeitgeist Works With HydraDX For OmniPool Listing
We announced on Twitter this week that we have commenced proceedings to open communication between the Hydra DX parachain and that of our own. These communication channels, once opened, will allow ZTG to be listed on HydraDX's OmniPool DEX (decentralized exchange).
We're really excited about this step, as it will provide more avenues for users to get their hands on ZTG and participate in our prediction markets. This is the first of many DEX integrations this year, and we'll keep you posted about each of them.
Read our OmniPool announcement here
4. Regular Prediction Competitions
We've been running regular competitions on the Zeitgeist app to incentivize quality forecasters in our ecosystem. After the success of the Super Bowl competitions, we've since rewarded forecasters in the Astar market, the Oscars Best Picture market, and are now running a competition for the RMRK on EVM market.
If users make a prediction between 1000 and 5000 ZTG, they get entered into a draw to win the same amount (regardless of the result of their prediction)! So if you think you have some inside info on RMRK's EVM compatibility, forecast here.
And look out for numerous other prediction market competitions announced reguarly in our Discord and on Twitter.
5. Hold On What's Goin' On - Twitter Spaces

We hold a monthly Twitter Space where we talk about the latest developments in the Polkadot ecosystem. This coming week we'll be chatting to the organisers of Polkadot Safari (in Kenya) and Polkadot Now India conferences to talk about crypto adoption in the developing world.
It promises to be an intriguing dialogue, and is set to happen on Wednesday 29 March at 2pm UTC. But we'll confirm that on Twitter!

That's All Folks!
That's where we'll leave it for this edition of the Zeitgeist newsletter. Please don't forget to share our "How to buy ZTG tutorials" with anyone you think needs to enter the Zeitgeist ecosystem!
Be sure to keep an eye on our Twitter and Discord channels, because the ecosystem activity is increasing considerably.
Thanks for all your continued support, and we'll catch you in the next edition soon.
May your future be bright.
The Zeitgeist Team