Zeitgeist Newsletter: 001
We're starting a fortnightly email to keep you abreast with what is going on in the Zeitgeist ecosystem! Here's the first edition.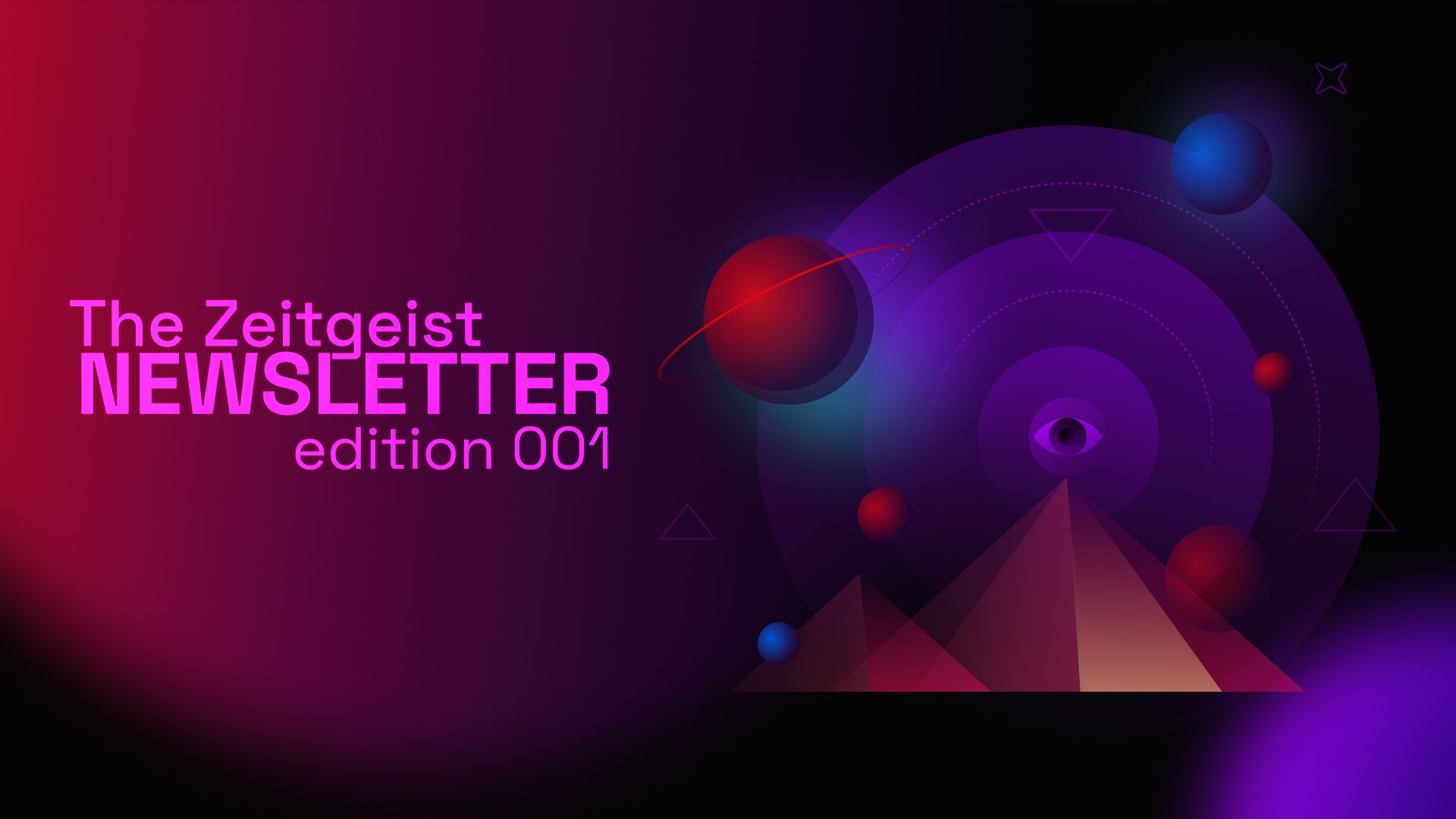 Greetings Zeitgeist supporter!
In case you might have missed the news, our application is now live on the Kusama network, and available for making predictions!
The app has already seen 47 prediction markets created since our launch in mid September, with over 64,000 ZTG changing hands in that time. With so much going on inside the Zeitgeist app, we want to keep you updated with a fortnightly email giving you a brief summary of what's been happening, and highlight any interesting markets you might have missed. Before we go any further, though, here is the link to the announcement blog post - which also highlights our launch campaign of NFT profile pictures!
Here are the key updates you should know from the Zeitgeist ecosystem:

1. The Zeitgeist Charts
Each fortnight, we will give you an update on which prediction markets are the most popular, and provide you with a Top Ten Chart of prediction markets from the past two weeks.
Since launch, the most popular markets have been, in order, the UEFA Champions League winners, Exosama's floor price, and whether Phalaworld's metaverse will be playable. Those three combining for a total trade volume just shy of 20,000 ZTG between them - and considering the UEFA Champions League final is only in May 2023, it could stay on top of the charts for quite some time to come.
The full Top Ten on Zeitgeist are as follows:


2. Tutorial Series
We've put together a series of videos that will guide you through the entire process of navigating the Zeitgeist application. Each video is available on YouTube, and is embedded in this Blog Post here. The series also includes how to connect a Polkadot-based wallet to your internet browser, without which you won't be able to interact with the Zeitgeist app.
3. NFL Predictions
An anonymous team have been so captivated by Zeitgeist's work that they have created their own sporting project. Their work is primarily Twitter based, but empowered by the Zeitgeist application.
Each week, the best NFL (American Football) games are identified as being the most intriguing, and then prediction markets are created for the outcomes of those matches. You can follow the NFL Predictions team on Twitter here


4. FIFA World Cup in Qatar
It is now less than two weeks away from the FIFA World Cup in Qatar, the biggest sporting event in the world. The market for this huge tournament currently has Brazil as the favorites to win, with a likelihood of 19%, ahead of France (17%) and Argentina (16%) respectively. Predict the outcome here.


6. Top Grossing Film Of 2022
With Avatar 2 officially scheduled to open in December, and with Top Gun 2 setting all kinds of records in 2022, this seems like an outstanding market. Do you think Avatar 2 (which looks extraordinary btw) could topple Top Gun as the year's Top Grossing film? Or will Tom Cruise reign supreme? Put your money where your mouth is here.


7. Brazil Elections
Politics are one of the largest utilities of prediction markets globally, and the Brazilian elections were a perfect fit. This race turned out to be neck and neck between former president Luiz Inacio Lula da Silva and his Far Right rival Jair Bolsonaro.
The market on Zeitgeist had da Silva to win with a likelihood of 61%, with Bolsanaro sitting at only 27%, and a "no result" outcome holding a 12% likelihood. This once again proved accurate, as da Silva was announced the election winner!


8. Chinese Invasion of Taiwan
There's been a lot of talk surrounding China's intimidation of Taiwan recently. What better way to get insights into possible escalations than via a prediction market? There is currently a market on Zeitgeist asking if China will invade Taiwan before 1 April 2023, and the likelihood sits at a 74% chance of "NO", and a 26% chance of "YES" - which is promising if you're a pacifist. Here's a link to the market if you want to make a prediction on what happens next.



9. Zeitgeist in Decentraland
Our Chinese Community Development Team was hard at work in gathering a big following in Decentraland. The team put together an event in conjunction with "MetaGami" and saw over 800 users participate! Check out the awesome wearable that was available for specific users (pictured below) and catch more details of the event here.
10. Zeitgeist on the GameDAO Twitter Space
Bob and James took part in a Web 3 gaming Twitter Space last week, hosted by GameDAO in conjunction with Wave Studios. The intriguing dialogue discussed everything from favorite consoles to whether Battlepasses really are the best business models for the gaming industry. Catch the recap on the GameDAO blog.


11. Monthly Report: October Update
As you may know, we release a report once a month providing details of what we as a team have been up to. This update covers all of our tech updates and parachain upgrades, as well as some info about marketing efforts. You can read October's monthly report by clicking here.

That's All Folks!
That's a wrap of what's been happening in and around the Zeitgeist universe! Our team has been hard at work polishing the app for the last seven weeks that we have been live, and there are already more tweaks in the pipeline ready to be deployed to make the experience even better.
If you have any questions, be sure to jump into our Support Channel on Discord, or pop us a question on Twitter.
Until next time,
May your future be bright.
James