Rebooting The Zeitgeist Seer Program
The Zeitgeist Seer Program is getting a fresh injection of energy to grow our ecosystem and take us to new heights in 2023 and beyond.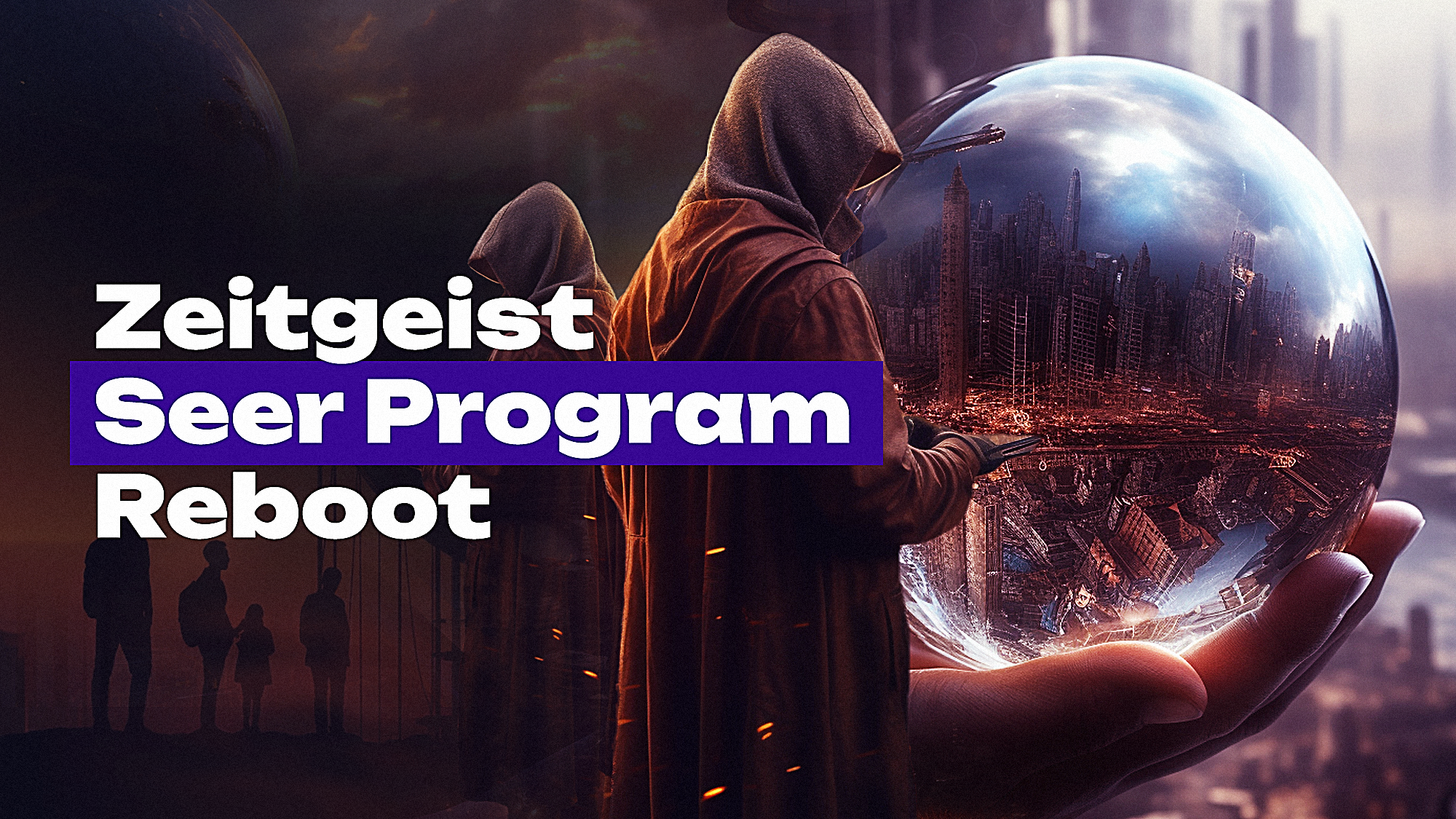 We are thrilled to announce the re-launch of the Zeitgeist Seer Program. As we continue to innovate and expand, we believe now is the perfect time to enhance our program and invite new visionaries to join our ever-growing community of ambassadors. The Seer Program is designed to empower our supporters, offering them a platform to learn, connect, and contribute to the future of prediction markets and futarchy.
The revamped Seer Program will provide even more opportunities for collaboration, education, and personal growth. Our goal is to nurture a strong and diverse community that can drive the development of the Zeitgeist Prediction Market ecosystem, and ensure we make a lasting impact on the world.
Whether you're a seasoned expert in prediction markets or just starting to explore them, the Zeitgeist Seer Program has a place for you. As a Seer, you will have the chance to work alongside our dedicated team, as well as our passionate Head Ambassadors, who will be sharing their valuable experiences and insights.
Let's take a look at the key changes in our Seer Program reboot:
Integration with Zealy.io
First up, you can find Zeitgeist on Zealy (former crew3). This will be an important step for you in order to gain your "Seer Title".
To become a Seer, please, make sure to follow the following steps:
Visit our Community Quest Portal: https://zealy.io/c/zeitgeistpm/questboard
Complete all quests with "on-boarding" in the title. This will give you enough XP to reach level 1.
Complete the "Introduce yourself to The Seer Program" quest.
Sit back and wait for one of our community leaders to approve your introduction.
WagMedia Integration
We have already been working closely with WagMedia, whose integration enables us to reward members for high-quality translations and content in a much easier way than before!
WagMedia is a Dotsama community platform designed to reward content creators and the overall Dotsama community for quality contributions to projects like Zeitgeist.
Going forward, all our translations and some Twitter activities are managed through the WagMedia Discord.
To start contributing through WagMedia: Verify yourself and visit #🔮|zeitgeist channel in WagMedia Discord Server.
Here's how to get rewarded for your Zeitgeist translation contributions:
Stay up to date with WagMedia Announcements. Specifically our "#🔮| zeitgeist" channel, where we publish the details of translations and upcoming events.
If there is a post to translate, publish it on your Medium page (Medium only!)
Go to the WagMedia Discord and publish your translated Medium URL in the "#🔮| zeitgeist" channel.
Wait for the rewards to be distributed! 💰
🔮 We will continually add challenges for the WagMedia community that incentivizes people to create additional content for Zeitgeist. For example, we have had 3 different Twitter Bounty challenges in WagMedia that have covered featured markets within the Updated Zeitgeist App.
"Build the Future with Zeitgeist" Campaign
"Build the Future" is a community campaign aimed at empowering our community to drive the growth and development of our decentralized, blockchain-based prediction market protocol.
If you have a great idea for a project that will help advance Zeitgeist, or if you have a skill that you would like to contribute to a project proposed by someone else, we encourage you to join this campaign.
To participate, simply follow these steps:
Submit your proposal on OpenSquare by filling out the linked form.
Engage with the community and other participants to refine and improve your proposal.
If your proposal is selected, work with the community and the Zeitgeist team to bring your project to life!
🔮 The Build the Future campaign is a unique opportunity for members of our community to demonstrate their passion and commitment to Zeitgeist, while also having a tangible impact on the growth and success of the protocol. Whether you are a developer, marketer, designer, or simply a passionate advocate for blockchain technology, we want to hear from you! Be sure to get in contact in the Zeitgeist Discord #🧙🏽│seer-chat.
Head Ambassador Testimonials
Zeitgeist has been a thriving project since early 2021, and we launched our Seer Program in that same year. Since then, we have seen numerous ambassadors succeed in the ecosystem and spread the Zeitgeist message. Many of these ambassadors have gone onto become influential contributors to the overall Dotsama community, some even getting full-time jobs at Zeitgeist or other companies because of their work.
One only has to look at Zeitgeist's Head Ambassadors in Latin America, Germany and France for some serious inspiration about what the Seer Program means:
Mr. Excel, Head Ambassador (Latin America):
"Zeitgeist has marked my life, that is why I have their logo tattooed on my skin! I have had the opportunity to show this technology in different countries like Spain, Argentina, Peru, Chile, and Brazil.
I believe that this technology is the future; futarchy is the best option to improve democracy and in the future it will become even more popular. Zeitgeist is building a better future for humanity, and understanding its technology you will see this first hand.
I invite you to the Zeitgeist Seer program so that you can learn about this great technology and you join a project helping push humanity forward. The future is now with the Zeitgeist."


Daredevil, Head Ambassador (Germany):
"As Head Ambassador of the German-speaking community, I am very happy to share my experience with all of you. From the moment I joined, I was welcomed into a supportive, innovative and positive Ambassador programme that I am very happy to have become part of. I am inspired by the passion and commitment of the team and community working together to support each other and drive shared objectives . Through collaboration and open-mindedness, we turn ideas into reality and foster a culture of innovation and growth.
The camaraderie and encouragement that exists in our community creates an atmosphere where everyone feels valued and heard. What really sets our community apart is the unwavering support we offer each other and receive from the Zeitgeist team to bring our ideas to life and grow the Zeitgeist network. This network of support enables us to face challenges knowing that we are never alone in our endeavours.
As a Head Ambassador, it is an absolute privilege to witness the positive impact our community has and will continue to have in the future. I am proud to be part of such a growing and inspiring community, and I am confident that our future will be one of continued growth, success and meaningful ideas.
If you are looking for a community characterised by innovation, positivity and unwavering support, I wholeheartedly encourage you to join our the Seer Program. Together, we will continue to build a brighter future for the Zeitgeist Prediction Market Network".


Great Teacher Kez, Head Ambassador (France):
"Hi, everyone! In this article, I will try to explain to you how I joined Zeitgeist, how my interest in the project arose, and how I subsequently became Head Ambassador for France.
My interest in the project
I got interested in Zeitgeist because I found that the project included too many elements that I did not know or mastered very badly (futarchy, prediction markets). As I hate not understanding things, I endeavoured to learn more and I told myself that by extension, some other people would necessarily find themselves in the same situation as me when faced with this UFO that is Zeitgeist.
So I started writing a lot of articles about prediction markets, their use, and the scope of futarchy as a mode of governance, and I shared all this on the project's discord server.
From Seer program to Head Ambassador
Quickly in contact with Bob and Yulia, I accumulated kudo-points on the discord server (I still don't know what they are used for — haha), and becoming the biggest holder of the server, Bob noticed that my investment for the project was flawless and that I allocated significant resources voluntarily to the project, which is why he offered me to become Head Ambassador for France!
Head Ambassador
Prediction markets are "unknown" to say the least here in France, my compatriots stopping at simple betting, comparing it to traditional online sports betting sites. Unfortunately, I still have trouble convincing a large part of the French community because there is too much misunderstanding and confusion around prediction markets.
The pinnacle was for me to join Bob in attending theParisDot conference as a Zeitgeist ambassador. This event was incredible. I had the opportunity to meet a lot of people from the Dotsama ecosystem and finally put faces to names and nicknames. Bob was amazing with me on the trip and also great company.
As head ambassador, I was also able to offer my opinion to CMO Hutch about the front-end interface of the Zeitgeist app, as well as the NFT campaign at the launch of the project.
The Zeitgeist team really listens to its community members, and it's always a pleasure to be able to exchange ideas with the big brains of the project, something I wish I could do more, actually.
I hope this article has enticed you to get more involved in your respective communities.
See you soon no doubt, I wish you luck or wisdom with your predictions on the Zeitgeist dApp!"

Conclusion
These testimonials showcase the incredible passion, dedication, and collaboration that our Head Ambassadors bring to the Zeitgeist community. Their experiences serve as an inspiration for others to get involved and contribute to the growth of the Zeitgeist Prediction Market Network.
We're excited about a fresh injection of energy into the Zeitgeist Seer Program, and invite you to be part of our vibrant and innovative community.
Don't hesitate to join the program. Together, we can build a brighter future for prediction markets and futarchy.
We can't wait to welcome you on board!
To learn more about the Seer Program and how to get started, we invite you to check out our resources:
Join us today and help shape the future of Prediction Markets!